VERY IMPORTANT -- THANK YOU FOR YOUR CONSIDERATION.
AIR PURIFIERS (HEPA FILTERS) FOR YOUR CLASSROOM, OFFICE, OR HOME
Patient Knowhow aims to uncover the most reliable and easy-to-use information about disease prevention, transmission, causes, and treatment.
Purpose
The size of the HEPA air purifier needed depends on the dimensions of the room (length x width x height). A common mistake is to use a HEPA air purifier that is underpowered for the size of the room (classroom, office, home, etc.). It is important to choose the right sized HEPA air purifiers based on the dimensions of the room (Step 1 and Step 2 below).
Step 1: Measure the length and width of your classroom (office room or room at home) in feet using a tape measure or other method.
You can also use your own estimates of length and width to get an initial estimate of the HEPA air purifiers needed, and then re-run the calculation below using actual measurements later when you have them. If possible also measure the height from floor to the ceiling (If not we will assume it is a typical
8 foot ceiling
). If the rooms are of different sizes as long as they are within about 10% of each other the answer will be approximately the same.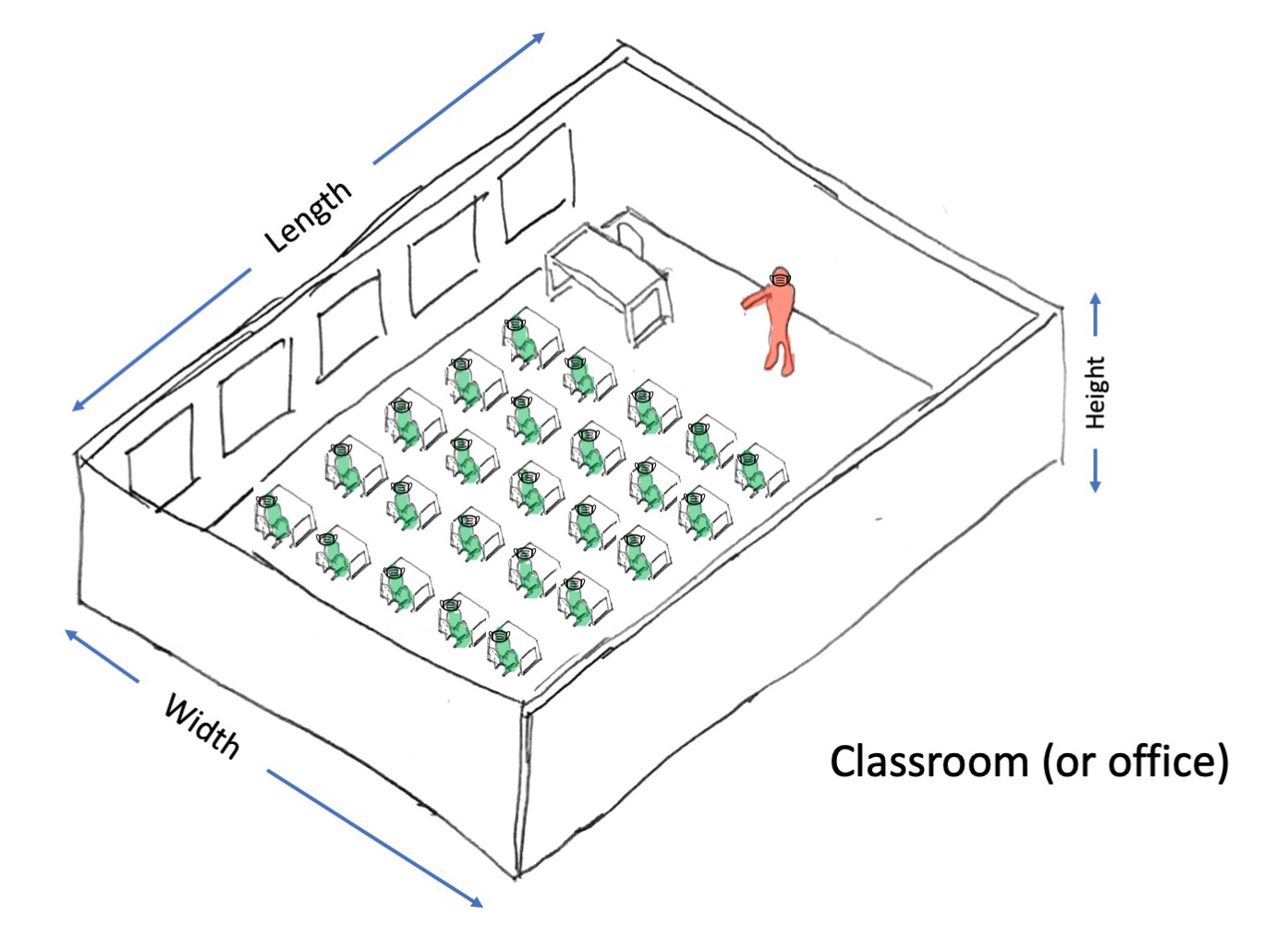 Step 2: Begin here to input the classroom dimensions and find out how many HEPA air purifiers you need for each classroom (office room or room at home) and the total number needed for your school (office, home).
HEPA air purifiers come in many different sizes. It is critical to choose the right size HEPA air purifier for your classroom because if the HEPA air purifier capacity is too small for the size of the room it may have little benefit. It is very eash to underestimate it. For example, our classrooms already had HEPA filter units advertised on Amazon for
360 square feet
. However it was only after measuring the dimensions the classrooms we discovered the rooms were over 900 square feet necessitating an upgrade to
larger units
. Multiple teachers either didn't know or underestimated the need for upgrades not knowing that the air purifiers they already had would be vastly underpowered for the size of their classroom.
Example estimate: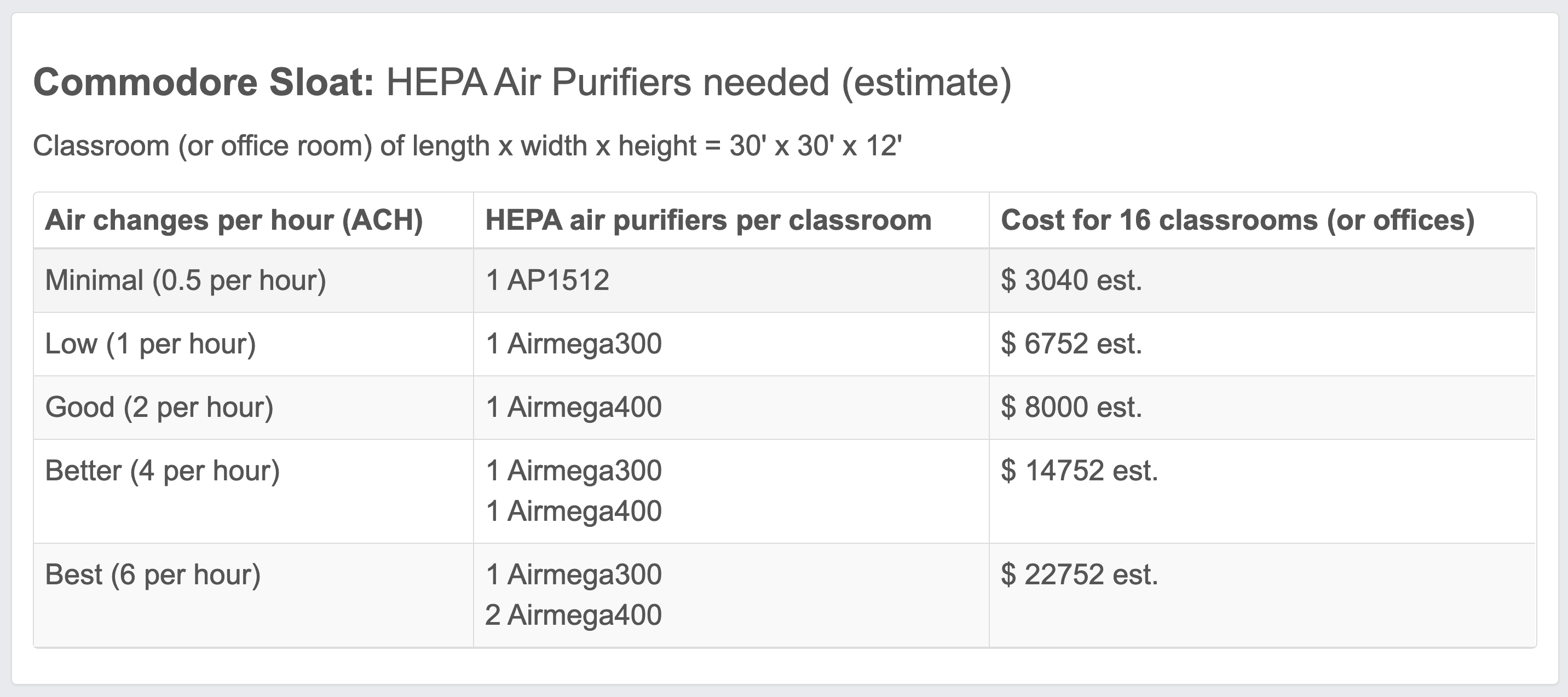 HEPA Air Purifier models used in the estimate
The above estimation is based on three models made by Coway which is a
top rated
brand by Wirecutter (New York Times), has overall high level of customer satisfaction on Amazon, and performed well in our at-home testing for over six months.
$190 Coway AP-1512HH which is rated for 361 sq.ft at 2 ACH assuming an 8' ceiling height
$422 Coway Airmega 300 which is rated for 1,256 sq.ft at 2 ACH assuming an 8' ceiling height
$500 Coway Airmega 400 which is rated for 1,560 sq.ft at 2 ACH assuming an 8' ceiling height
There are many other models and brands availble as substitutes such as Honeywell, Whirlpool, etc. New York Times has a
review
of smaller HEPA air purifiers. For a selection of larger HEPA air purifiers see this
review
.
Examples
For an air purifier or ventilation system the key metric to consider is clean air delivery rate (CADR), which measures how quickly a purifier can clean a volume of air, taking into account air flow and filter efficiency. e.g. a purifier with a CADR of 400 cfm (cubic feet per minute) can clean 24,000 cubic feet per hour. Approximately, for a 1000 square foot room (30 feet x 30 feet) with 8 foot ceilings (8,000 cubic feet) that translates to three complete room air exchanges per hour. Experts
recommend
4 to 6 air exchanges per hour (ACH) in the room for Covid mitigation. Even two air exchanges every hour would do a lot of good. Sufficiently sized mechanical air purifiers (HEPA) in the classroom are needed to reach this design target for air exchanges. Below are example calculations of target ACH for a few representative models and typical room sizes.
Note: The reported CADR for a given model is usually when the air purifier is running at its maximum speed, so to achieve the air exchanges per hour the automatic setting typically needs to be overriden to run at the maximum speed. Air circulation depends on a variety of factors beyond room size such as configuration, so there is no guarantee that all the air in a room will pass through the filter. These are not recommendations just example calculations for a few representative models and typical room sizes assuming an 8 foot ceiling height.
Checklist for how to operationalize the use of HEPA filters in classrooms (or office, home).
Take the HEPA filter out of the box and place it in a reasonably central location. Don't forget to remove the plastic cover on the HEPA filters inside the air purifier which it comes with for shipping otherwise the air will not actually flow. Some units come with two filters, one on each side and so the plastic needs to be removed from both.
Placement of the unit doesn't have to be perfectly central, just not covered or obstructed so that air can't flow to/from it. Needs access to a power outlet so it is probably not going to be too far from a wall anyways.
Assemble it. Some assembly required. The disposable filters are usually wrapped up and need to be unwrapped and placed inside the blower unit. There is also some packaging material that needs to be removed.
Plug it in
Very Important: To keep Coronavirus from accumulating in the air, adjust the setting to max speed (3) or if not then the next one setting down (2) if max speed is too noisy. Unlike solid wildfire particles which the HEPA filter is designed to detect, it does not detect the floating water droplets containing Coronavirus in the exhaled air (aerosols). So for it to be effective it must be continuously running at high speed while people are breathing, talking, etc in the room. For prevention of Coronavirus I'd advise it to be set on full/max speed. To do that you need to override auto settings. For wildfire particle filtration, it would suffice to keep the setting on Auto. The detector is designed to sense solid particles such as those from wildfire smoke.
Every day: Turn it on every morning when people arrive in the classroom (office room or room at home). This should be on whether or not the windows are open. HEPA filtration will be "inside out" filtration that may not happen even if the windows are open. To visualize, imagine what would happen to candle or cigarette smoke.
Every day: Turn it off at the end of the day when people/children leave.
Every month: If the indicator light to clean the pre filter is on, then it needs to be wiped down. Maybe every month or two. Again mileage will vary based on usage.
Every six months to one year: If the indicator light to replace the HEPA filter is on, then it needs to be replaced. Maybe every 6 months to one year. Mileage will vary based on usage.
Motivation: The Air Safety Crisis from Coronavirus, Wildfires, and Expected Shortage of HEPA Air Purifiers
The CDC has
updated
its views that COVID-19
travels in the air and collects indoors
otherwise known as
airborne
transmission. Air quality scientists are calling for better
ventilation.
Often fresh air ventilation from outside is not feasible such as on the West Coast during fire season when outside air quality
deteriorates
the windows may need to be closed to reduce wildfire aerosols from outside. In such situations, the CDC also recently recommended portable HEPA air purfiers (a type of air purifiers) to clean the air in
classrooms
and other
buildings
(e.g. offices, homes) to prevent spread of Coronavirus by exhaled
aerosols
. This maybe especially important for classrooms with kids who are under 12 years old and will not be vaccinated until 2022 and maybe be at greater risk of catching the virus if they are spending hours together in the same room breathing the air. Furthermore we don't know what Covid variants will emerge and there are some indications of a more contagious
variants
such as
B.1.617.2
. These same HEPA air purifiers are
useful
to protect from toxic wildfire particles (pollution) during fire season expected to be
more severe in 2021
in the fall when keeping the windows open may or may not be advisable. Unlike some school districts such as
Chicago
,
New York
,
Berkeley
, and
Palo Alto
which provide HEPA air purifiers in classrooms, in many schools around the country is left up to parents to buy and install HEPA air purifiers in their children's classrooms. In 2020 there were
46 spare the air days
in the San Francisco Bay Area with 25 days of high PM2.5 for 24 hours. In 2021, the west coast wildfires are
expected
to cause a shortage of HEPA air purifiers around the "back to school" time frame during which they could be out of stock. To prepare and get ahead of the fire season rush, schools, offices, and homes should buy HEPA air purifiers in advance for each classroom (office room) and ideally learn how to use them during the summer.
Disclaimer: These links to resources on masks, air purifiers, videos, or any information on this website patientknowhow.com (the "Content") are for informational purposes only and should not be construed as professional advice. The Content is intended to complement, not substitute, the advice of your doctor. You should seek independent professional advice from a person who is licensed and/or qualified in the applicable area. No action should be taken based upon any information contained in this website. Use of the website is at your own risk. Patient Knowhow, Inc. takes no responsibility and assumes no liability for any Content made available over this website.